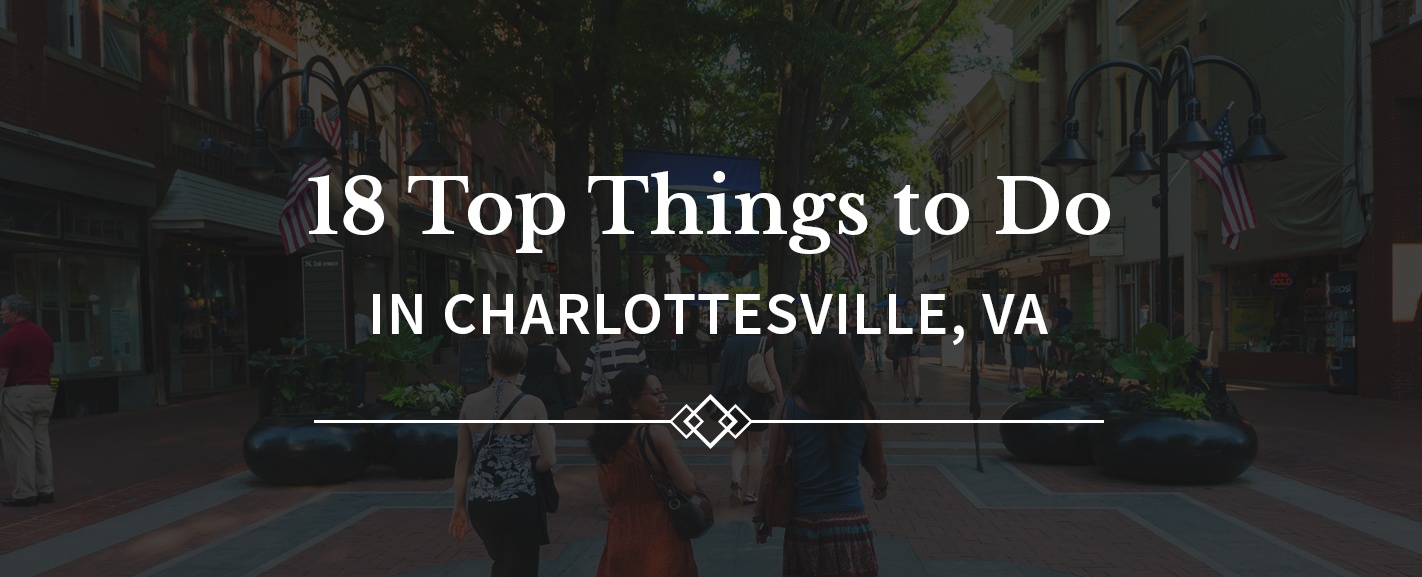 Charlottesville, Virginia offers visitors and residents an abundance of enjoyable activities. This charming, scenic city sits in the foothills of the Blue Ridge Mountains, and the area was once the home of three American presidents –– Thomas Jefferson, James Monroe, and James Madison. History buffs flock to Charlottesville to explore its many historic sites, while others head to C'ville to enjoy the numerous galleries, world-class museums, wineries, shops, and gorgeous parks and trails.
Whether you're a local or a visitor, you have a lot to choose from when planning your day on the town. We'll help you get started and show you the best things to do in the Charlottesville area, from touring Monticello to observing Virginia's wildlife.
1. Get to Know Thomas Jefferson at Monticello
As the home and plantation of Thomas Jefferson –– the third president of the United States, author of the Declaration of Independence, and the founder and designer of the University of Virginia –– Monticello is one of Charlottesville's top attractions. Monticello visitors get as close as they can to Thomas Jefferson as they learn his story and explore the magnificent house, gardens, and museum, all while taking in breathtaking views. This World Heritage Site is a must-see for anyone interested in American history or who wants to explore a beautiful historic property. The staff at Monticello recommend setting aside at least three hours for the experience.
2. Tour the University of Virginia's Academic Village
Did you already tour Monticello? Make sure to add the University of Virginia to your itinerary, so that you can see more of Jefferson's genius up close. At the University of Virginia (UVA), you can tour the original grounds, known as the Academic Village, designed by Jefferson himself. This includes the Rotunda, which is considered the University's landmark, the Pavilions and the Gardens. Make sure to peek through the glass door of Edgar Allan Poe's recreated dorm room while you're there.
3. Experience James Monroe's Highland
Sitting adjacent to Monticello, you'll find Highland, which was the home of the fifth president of the United States. At James Monroe's Highland, you can take a self-guided tour to explore the property and enjoy country views at your own pace. This includes a tour of an 1818 guest house which showcases a collection of early furnishings. You can also learn stories by taking guided tours of the property, or you can take an Augmented Reality tour for a unique digital experience. You might save time to explore the Highland Rustic Trails while you're there, so you can contemplate America's past as you rest in a pasture or traverse the wooded hillside.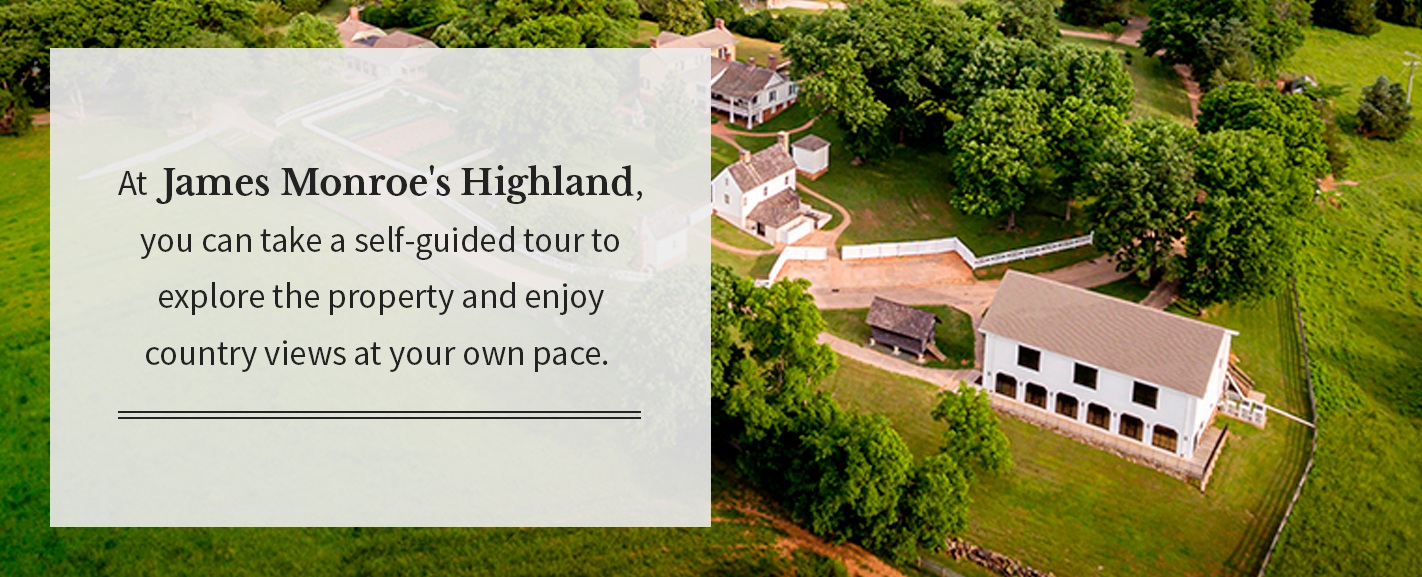 4. Shop and Play on Downtown Mall
A trip to Charlottesville isn't complete without walking the Downtown Mall. Downtown Mall is the heart of Charlottesville and where you'll find over 120 unique shops, charming cafes, a variety of entertainment options and some of the most fun things to do in Charlottesville. This pedestrian mall features beautiful brick-paved tree-lined streets, so you can relax as you walk and not have to worry about traffic.
Here you might catch an independent film at Violet Crown, check out live music at the historic Jefferson Theater or take the kids to the interactive Virginia Discovery Museum. No matter how you spend your time on Downtown Mall, make sure to stop at the Charlottesville Downtown Visitors Center. At the Charlottesville Downtown Visitors Center, you'll find hundreds of brochures to help you make the most of your trip, and you can buy tickets for shows at local venues. You'll find everything you need to know to create a memorable Charlottesville experience.
5. Make Your Own Souvenir at the Glass Palette
If you want something special to take home from your Charlottesville trip, you don't have to settle for the typical T-shirt or magnet. Instead, consider heading to The Glass Palette Interactive Glass Art Studio where you can make your own treasures to remind you of your time in Charlottesville.
At The Glass Palette, you don't need any experience working with glass, and you don't need to make any appointments during open studio hours. They welcome all ages and skill levels to walk in and start making beautiful glass objects –– and they'll show you how. They also offer classes and workshops for adults who want to learn skills such as stained glass making to jewelry making.
6. Fall in Love With Art at the Fralin
The Fralin Museum of Art at the University of Virginia is a must-see art museum whether you're just visiting the area or are a Charlottesville resident. The museum's mission is to exhibit works of art of the "highest quality" from around the world and across different time periods, so you're bound to learn something new or see something you connect with. Plan to take your time and enjoy the permanent collection, which consists of nearly 14,000 works, as well as any current exhibitions. Admission to the museum is free, so you can come and go as you please or visit the museum more than once while you're in town.
7. See Something New at the Kluge-Ruhe
Another admission-free can't-miss art museum in Charlottesville is the Kluge-Ruhe Aboriginal Art Collection of the University of Virginia. This unique museum is the only one outside of Australia that focuses on showcasing Australian Aboriginal Art. Another reason to visit the museum is it's located in a historic home, and the grounds are surrounded by trails for visitors to enjoy. For a truly unique art experience, and a relaxing day outdoors, head to Kluge-Ruhe.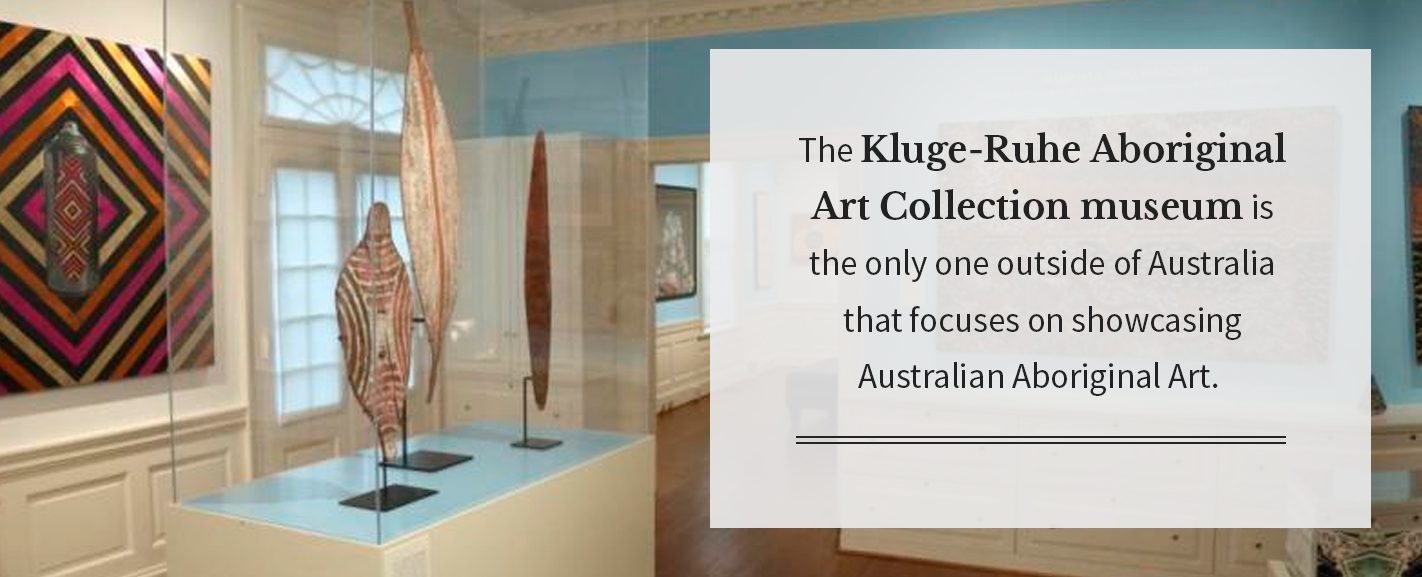 8. Drive Through 
Shenandoah National Park
Although Shenandoah National Park is about 40 miles from Charlottesville, you'll still want to consider filling your gas tank and taking a ride on Skyline Drive. Skyline Drive stretches 105 miles along the top of the Blue Ridge Mountains through Shenandoah National Park. You'll find mileposts along the road to help you locate points of interest, and expect to find almost 70 overlooks for magnificent views of the Shenandoah Valley. The speed limit is only 35 mph so be ready to relax, cruise and feel the breeze. Make sure to look out for wildlife such as deer, black bear and turkey along the way.
9. Observe Deer at Ivy Creek Natural Area
If you can't make it to Shenandoah National Park, Ivy Creek Natural Area offers an abundance of Mother Nature's beauty just six miles north of Charlottesville. Here you'll find eleven different trails winding through the 219-acre preserve, and opportunities to view wildlife like commonly-seen white-tailed deer. This beautiful preserve is a favorite peaceful spot for locals and travelers alike and makes a wonderful place for a nature break.
10. Forget Your Worries at Decades Arcade
If you're wondering what to do in Charlottesville with the kids, or if you consider yourself an arcade addict, you might want to check out Decades Arcade. Decades Arcade is the place to go for hours of gaming fun with your kids, your friends or by yourself. For $12 per adult you'll have unlimited play time to enjoy arcade classics from the 1950s on up. From Giant Connect 4 to Donkey Kong, these games will help you leave your worries behind and make you feel like a kid again.
11. Attend an Event at lX Art Park
lX Art Park is an open, public art space that proudly promotes the "power of collective creativity." Decorated with colorful murals, this is the place to go to join locals and visitors engaging in fun and creative activities. Check their events calendar to see what's going on when you'll be in town so you can plan ahead. Expect to find events such as Bachata Fusion –– their weekly dance party and chance to learn and practice bachata –– and Pay What You Can Yoga. They also host music festivals and other vibrant community events and welcome everyone to join in on the fun.
12. Relax at Kemper Park
Kemper Park, which includes 89 acres of land, sits along the Thomas Jefferson Parkway and features the popular Saunders-Monticello Trail. Here you can enjoy a day of recreation whether you want to jog, bike, walk, birdwatch or follow the Saunders-Monticello Trail to Monticello. There's also a pond where you can relax and look for wetland birds, the Carter Overlook where you can take in views of Charlottesville and the mountains beyond, and a Jefferson-inspired arboretum to explore. If you're in the mood for a hike, you can choose from several trails.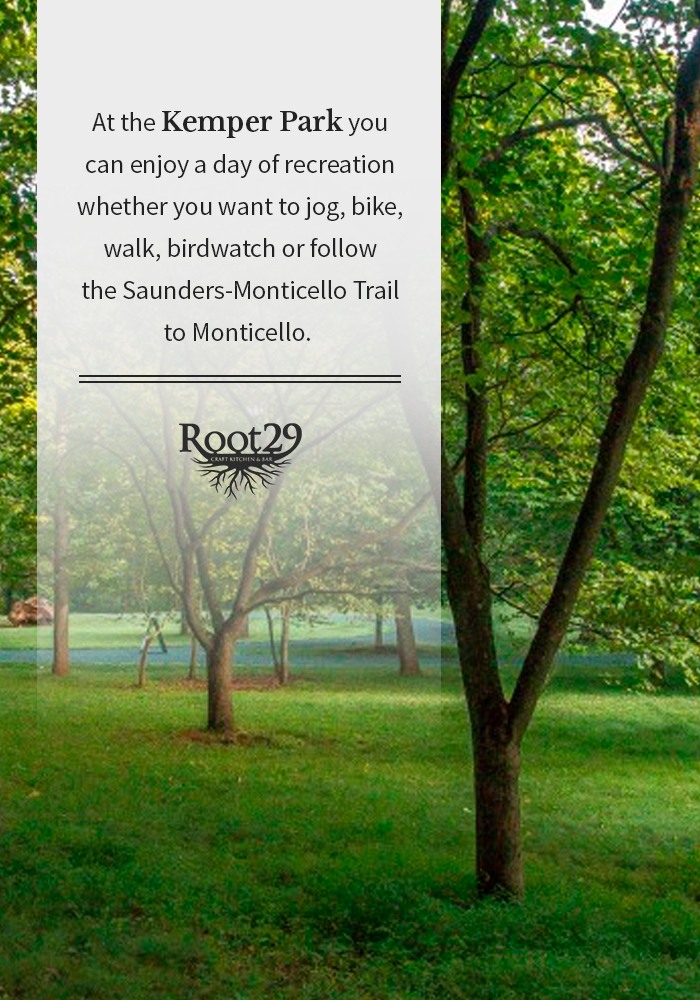 13. Attend a Concert at the McIntire Department of Music
While you're in Charlottesville, you may want to follow Thomas Jefferson's advice and "…not neglect your music" as it will "…sweeten many hours of life to you." At the McIntire Department of Music at the University of Virginia, you can sit back and let beautiful music take you away.
The Department of Music is where UVA students study music performance, composition and more, and it's also where the community can attend over 200 events presented yearly, from student recitals to ensemble performances. Many of the events are free or low-cost, offering an affordable way to enjoy a quality musical performance on the lovely UVA campus.
14. Shop for Treasures at Circa
Treasure hunters will want to head to Circa –– Charlottesville's beloved antiques and collectibles shop. At Circa, you can explore over 10,000 square feet of unique vintage items with tons of character. You'll find all kinds of carefully curated goodies from funky home furnishings to one-of-a-kind knickknacks. Even if you only wish to browse, you can easily spend an hour or two exploring the many interesting finds.
15. Hike Ragged Mountain Natural Area
It's true: Virginia really is for lovers, and that certainly includes nature lovers. Charlottesville visitors and locals who want to go on a scenic hike through rugged terrain, or who want to rest next to a lake, should check out Ragged Mountain Natural Area, located just a few minutes from town. The Ragged Mountain Natural Area features a 980-acre forest, two lakes with over four miles of shoreline, and dozens of opportunities to spot wildlife. It may be the perfect place to soak in Charlottesville's natural beauty.
16. Take a Road Trip to Crabtree Falls
Locals who are looking for something new to do in the Charlottesville area may want to head to Crabtree Falls. Located about an hour from Charlottesville in Nelson County, Crabtree Falls is worth the trip to anyone who wants to see the tallest waterfall east of the Mississippi River. Crabtree Falls plummets a total of 1,200 feet and is surrounded by a beautiful forest. Visitors can view the falls at the first overlook located just a short walk from the parking lot, while hikers can traverse the three-mile-long trail to the other four overlooks for spectacular views of the falls and the Tye River Valley.
17. Visit the Past at Montpelier
Charlottesville residents and visitors don't want to miss the chance to explore the home of the fourth president of the United States –– James Madison. Located in Montpelier Station, less than an hour from Charlottesville, Montpelier offers plenty to experience. At Montpelier, you can tour the mansion and enslaved community, learn about the past through galleries and exhibits, or explore over eight miles of trails. So, if you have time in your Charlottesville journey, make sure to visit Montpelier to learn more about one of America's founding fathers and life in the 18th and 19th centuries.
18. Relish the View at Carter Mountain Orchard
Carter Mountain Orchard is another top attraction in Charlottesville. Visitors and locals head to Carter Mountain Orchard to pick their own fruit, when it's in season, and enjoy the jaw-dropping views. While you're there, stop in the Country Store to shop for locally-made treats like apple butter and jams, or taste award-winning wine. Carter Mountain Orchard offers a pleasant way to spend an afternoon for all ages.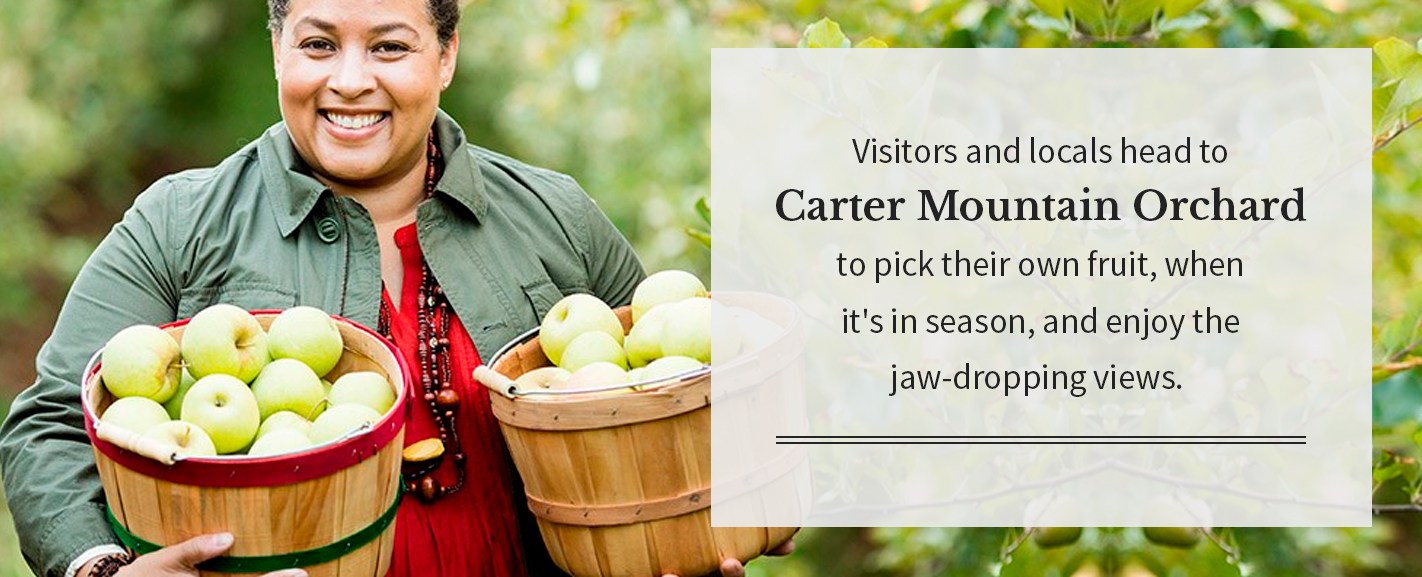 Stop at Root 29 for a Memorable Meal
To have the full Charlottesville experience, you'll want to dine like Thomas Jefferson, who was not afraid to enjoy new and exciting flavors and textures. As Ellen W. Randolph Coolidge noted, "…he had lived abroad and he had introduced into his own household many of what were called foreign ways."
At Root 29 Craft Kitchen & Bar, we combine Jefferson's curiosity and love of quality ingredients with classic comfort foods. Stop by our restaurant located inside the DoubleTree by Hilton Hotel Charlottesville, and you'll find something for everyone in your group, whether you're with a mac and cheese devotee or a wine aficionado. With an inviting, comfortable atmosphere and a waitstaff who is eager to serve you, let Root 29 be your destination for delicious food and excellent service. Make your reservation at Root 29 Craft Kitchen & Bar today!