Charlottesville, Virginia is a unique city that's home to Thomas Jefferson's Monticello, James Monroe's Highland and the University of Virginia (UVA). Charlottesville officially became a city in 1888, though Thomas Jefferson founded the University of Virginia in 1819. As it did back then, Charlottesville continues to thrive and offers a vibrant culture of art, music and education. Come to Charlottesville, and you'll also find lush green landscapes, wineries galore and outstanding eateries. This charming city that sits in the foothills of the Blue Ridge Mountains is a beautiful place to visit or call home. It doesn't cost a fortune to enjoy many of the treasures you'll find in Charlottesville, either.
If you're visiting on a budget and wondering what to do in Charlottesville with no money –– you're in luck. There are tons of free things to do in Virginia, and Charlottesville is no exception.
Here are some of our favorite cheap and free things to do in Charlottesville, Virginia:
Downtown Mall
University of Virginia's Rotunda and the Lawn
The Fralin Museum of Art
Leander McCormick Observatory
Saunders-Monticello Trail
Kluge-Ruhe Aboriginal Art Collection
City Market
Rivanna Trail
Ivy Creek Natural Area
McGuffey Art Center
Virginia Discovery Museum
The Paramount Theater
Carter Mountain Orchard
The Jefferson Theater
New Dominion Bookshop
10 Things to Do in Charlottesville for Free
Ready to feed your soul with art, history and nature without spending a penny? Here are 10 free things to do in Charlottesville, VA that are sure to make memories.
1. Stroll the Downtown Mall
When you think of Charlottesville, does the picturesque Downtown Mall come to mind? This pedestrian mall is one of the most beautiful in the country and a must-see for any Charlottesville visitor. Here you can stroll the brick streets and window-shop, people-watch, relax under an old oak tree or hop on the Free Trolley for a ride to the University of Virginia.
Make sure also to check out the Freedom of Speech Wall which is located in front of City Hall. This 54-foot-long slate wall invites visitors to pick up a piece of chalk and speak their minds. A portion of the wall features a permanent inscription of the First Amendment.
2. Tour the Rotunda and the Lawn
Want to check out one of Thomas Jefferson's architectural gems? You can tour the Rotunda at the University of Virginia for free, and tours are offered daily at 10:00 a.m., 11:00 a.m. and 2:00 p.m. during the school year.

Thomas Jefferson designed the Pantheon-inspired Rotunda as the academic center for students and faculty. It's part of the original grounds of the university and the area that was called the Academic Village. The Academic Village includes the Rotunda, a rectangular green space known as the Lawn, Federal-style Pavilions and colonnaded walkways.
Behind the Pavilions, you'll find the Gardens and the Edgar Allan Poe Room. Peek through the glass door of Poe's restored dorm room and get a sense of what it was like to be a UVA student in 1826.
As a whole, the Academic Village is a UNESCO World Heritage Site, and it's certainly worth a visit.
3. Find Inspiration at the Fralin Museum of Art
Art lovers will feel right at home in Charlottesville, especially when they step inside the Fralin Museum of Art. The Fralin Museum of Art at the University of Virginia houses almost 14,000 works of art, from ancient Mediterranean pieces to modern photography. The museum features a permanent collection as well as ever-changing exhibits brought from collections around the nation.
As with many Charlottesville establishments, the museum itself is a work of art and is located inside the stately Thomas H. Bayly Memorial Building. Since 1935, the Fralin Museum of Art has been enriching the lives of students, visitors and locals alike. If you're in downtown Charlottesville and are feeling the need for inspiration, why not get on the trolley and take in some amazing art –– all for free?
4. Stargaze at McCormick Observatory
If you happen to be in Charlottesville the first or third Friday of the month and want the chance to view celestial bodies through a giant telescope, listen to an astronomer's presentation, take a tour or check out space-centric exhibits all for free, the Leander McCormick Observatory awaits you. Located on the western edge of the UVA grounds, the McCormick Observatory might be the perfect place to end a romantic week-long trip to Charlottesville.
5. Walk the Saunders-Monticello Trail
The Saunders-Monticello Trail is a popular and accessible trail located in Kemper Park. This trail is surrounded by lush green hardwood forest and spectacular views of the Blue Ridge Mountains. It takes visitors to Monticello and back for a total of four miles.
If you're not heading to Monticello, you can explore the other trails in Kemper Park and walk through meadows and woodlands, or you can take in the view at Carter Overlook. You'll find trails for all skill levels and various surface materials from gravel walkways to boardwalks. The Saunders-Monticello Trail and Kemper Park may be the ideal way to enjoy nature while visiting Charlottesville with friends or family.
6. Explore the Kluge-Ruhe Aboriginal Art Collection
Did you know that Charlottesville is home to the sole museum devoted to Australian Aboriginal art beyond Australia? The Kluge-Ruhe Aboriginal Art Collection of the University of Virginia strives to spread an appreciation for Indigenous Australian art, culture and creativity all while creating an inclusive environment. The museum holds a collection of over 300 pieces of art and regularly hosts Indigenous artists.

The museum is not located on the UVA grounds, but it can be found in a historic home in the eastern part of Charlottesville. It holds five galleries, a library, activity space and a classroom. It's also situated on well-maintained grounds where visitors can enjoy a picnic at one of the picnic tables, relax under a tree or explore the nearby trails. You can easily make a day out of a trip to the Kluge-Ruhe Collection whether you bring the whole family or travel alone, and it's all admission-free.
7. Indulge Your Senses at City Market
From April to December, visitors and locals can head downtown to enjoy the scents, sights and sounds of Charlottesville City Market. Here you'll find over 100 vendors selling items such as fresh produce, quality meats, crafts, plants and baked goods. Even though you may want to bring a little cash to treat yourself to a colorful bouquet, for example, there's no harm in just browsing and people-watching for free.
Depending on when you go, you might also catch a free live music performance to enhance the experience. The market is held every Saturday from 8 a.m. until noon from April to September, and 8 a.m. until 1 p.m. from November to December.
8. Visit Parks via the Rivanna Trail
There is no shortage of beautiful walking trails in Charlottesville, as proven by the Rivanna Trail. This 20-mile-long trail surrounds Charlottesville. It was built and is currently maintained by passionate volunteers who believe in the mission of the Rivanna Trails Foundation –– to promote and protect trails. The trail winds through forests preserved to protect the streams and rivers of Charlottesville. It also passes through neighborhoods and connects six city parks such as Riverview Park, Quarry Park and Jordan Park.
9. View Wildlife in the Ivy Creek Natural Area
Locals and visitors love Ivy Creek Natural Area for its tranquility and abundance of natural beauty. Covering 219 acres, this preserve features woods, fields, streams and numerous opportunities to view wildlife. There are 11 trails of varying difficulty levels that meander through diverse habitats. Here you might spot white-tailed deer, great blue herons or salamanders. You may even spot a black bear searching for food in the woods. Nature lovers who want to observe wildlife in Charlottesville don't want to miss a trip to Ivy Creek.
10. Celebrate Local Art at McGuffey Art Center
If you want to explore art created by a community of dedicated artists, head to McGuffey Art Center. McGuffey Art Center is one of the oldest cooperative art centers in the country and is completely run by artists. The community of artists is committed to celebrating creativity and sharing it with others through their art and workshops. You'll find galleries as well as workshops and classes if you're interested in learning a new skill for a fee. The center is free to the public on the first Friday of every month, except for in August.
5 Cheap Things to Do in Charlottesville
If you have a few dollars saved for a rainy day, you'll have fun ways to spend your stash in Charlottesville. Here are ideas for an affordable and enjoyable day in Charlottesville whether you're with family, friends or going solo: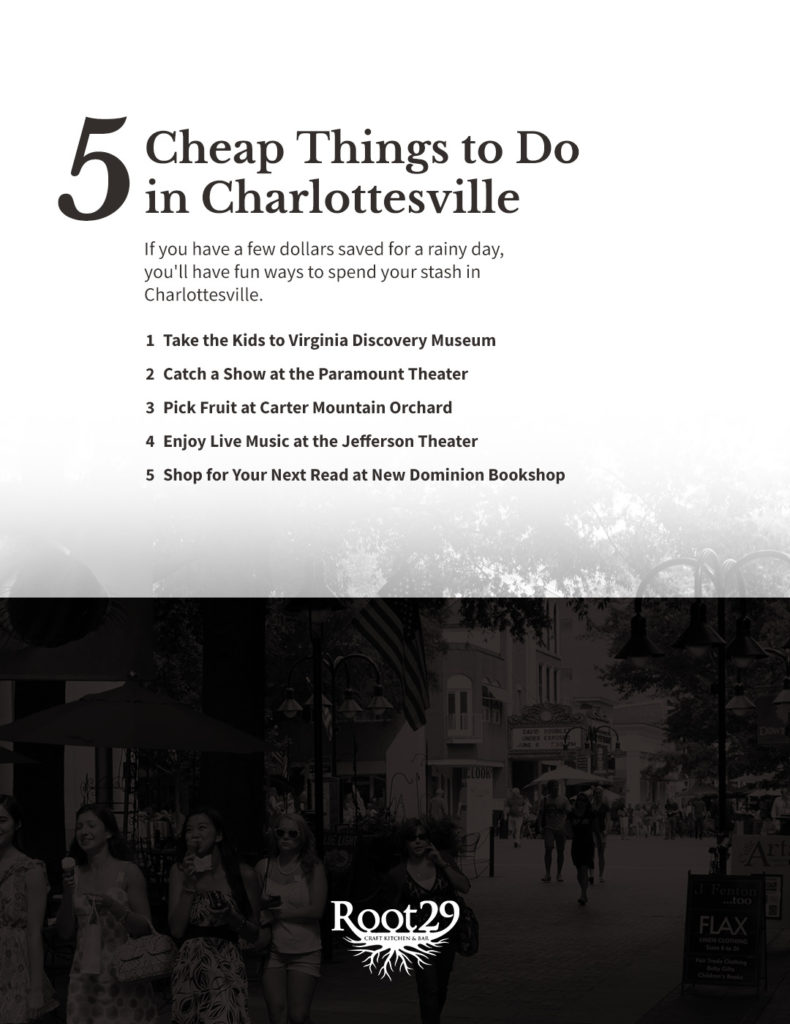 1. Take the Kids to Virginia Discovery Museum
If you're taking the family to Charlottesville, little ones will love a trip to Virginia Discovery Museum. This hands-on educational museum makes learning and exploring tons of fun for kids, and it only costs $8 per person to get in. Kids can have a blast with interactive exhibits as they learn and grow, from testing their building skills in the Construction Zone to dancing to their own tunes in the Sound and Music Studio. Virginia Discovery Museum offers a great way to entertain the kids without breaking the bank.
2. Catch a Show at the Paramount Theater
The Paramount Theater, which opened its doors in 1931, is a Charlottesville landmark and cinematic palace. Featuring ornate details like brass chandeliers and decorative moldings, this magnificent theater is a sight to behold in itself. As a nonprofit theater, you can expect reasonable ticket prices, and sometimes events are free. You can catch everything from film festivals to free community concerts. Check their events schedule to see what's happening when you come to town.
3. Pick Fruit at Carter Mountain Orchard
Although it's free to visit Carter Mountain Orchard, you'll probably want to bring a few bucks so you can take home some delicious fresh fruit or pick your own, depending on the season. However, that's not all this orchard has to offer. Locals and tourists also head to Carter Mountain Orchard for sweeping views — which are worth the trip alone. After you soak up the views, head into the country store to browse homemade treats like apple pie or award-winning wine.
Carter Mountain Orchard is especially popular in the fall which is peak apple season and when visitors can enjoy viewing the colorful fall foliage. The orchard also hosts various events throughout the year, so it's also worth checking their events schedule before you go. It's up to you how much you want to spend at the orchard, but it doesn't cost a thing just to visit and take in those gorgeous views.
4. Enjoy Live Music at the Jefferson Theater
Charlottesville loves live music, and there are plenty of places to enjoy live performances, especially downtown. One of those places is the historic Jefferson Theater located on Downtown Mall. Since 1912, the Jefferson Theater has been a mecca for entertainment and has hosted acts from Harry Houdini to The Three Stooges. Today, the theater features a state-of-the-art sound system and other modern amenities in addition to its restored beauty. You'll find a vast range of musical acts along with varying ticket prices. Whether you're in the mood for hip-hop, bluegrass, rock, blues or country, you just might find what you're looking for at the Jefferson.
5. Shop for Your Next Read at New Dominion Bookshop
Out of all the shops on the Downtown Mall, make sure to visit the New Dominion Bookshop if you love books and history. New Dominion Bookshop is the oldest independent bookseller in the entire state and was established in 1924. Stop in to buy a book, attend a book signing or check out the secret rose garden hidden behind the building.
Visit Us at Root 29 Craft Kitchen & Bar
With lots of free stuff to do in Charlottesville, you can save your spending money and dine like Thomas Jefferson, who is thought to be the first gourmet in America. Jefferson understood that the freedom to enjoy different foods is vital, and he once said that the people would be in a "sorry a state as are the souls of those who live under tyranny" if the government chose what foods they should eat.
At Root 29, we agree with our beloved forefather, and we share his passion for quality fare and for mixing innovation with tradition. We also like to be hospitable hosts and aim to make our guests feel comfortable with convenient on-site parking and a casual yet elegant atmosphere. Our skilled culinary team is proud to serve delicious comfort foods with an upscale touch, and our servers strive to deliver excellent service every time.
Whether you're in the mood to enjoy a carefully crafted burger while watching the game with friends or you want to treat your date to an elegant entrée in an inviting restaurant, we can't wait to serve you. We are located in the beautifully renovated DoubleTree by Hilton. Reserve your table and visit us at Root 29 today for a culinary experience Thomas Jefferson would be proud of!