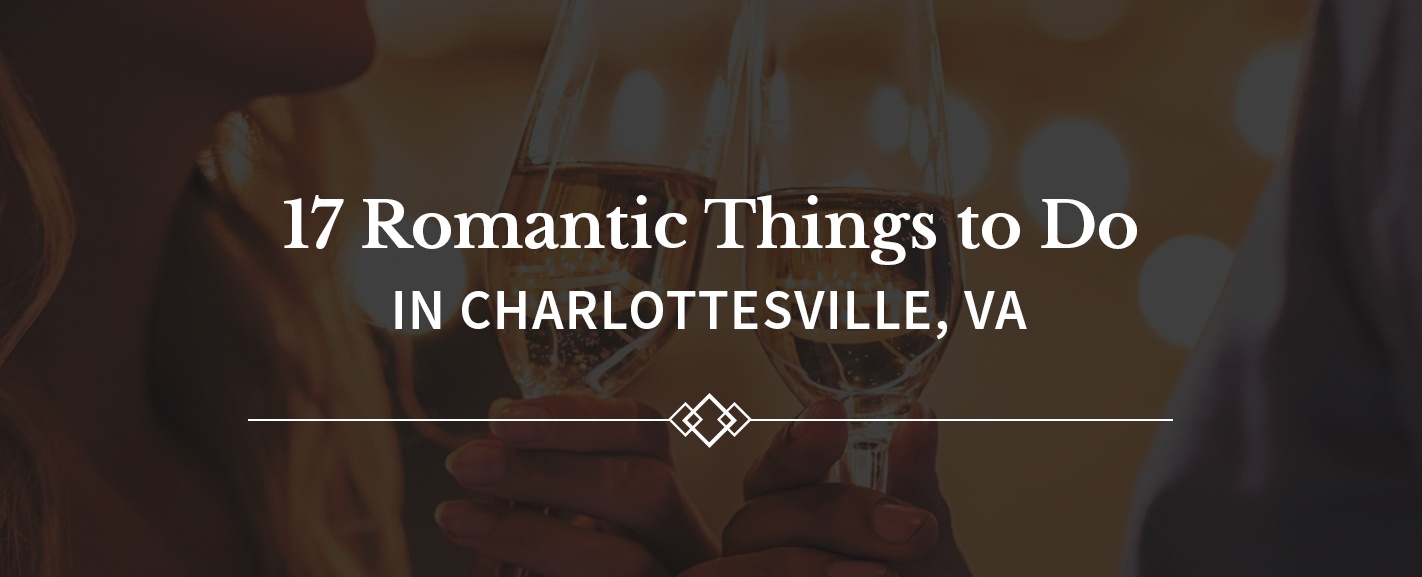 Charlottesville, Virginia is brimming with romantic places and things to do. Whether you're searching for the perfect restaurant to have a first date or you want to plan a romantic evening with your spouse, you'll find endless opportunities to celebrate your love in this charming and historic city.
Date nights are important for any relationship and help couples strengthen their bond. If your relationship is new, a romantic date will help you get to know each other better and can help your love blossom into something bigger.
Ready to take your honey by the hand and enjoy a special date together? Here are some C'ville date ideas to inspire you:
1. Indulge in a Romantic Meal at Root 29
Taking your date out to eat is one of the best romantic things you can do. When you dine together at a quality restaurant, you get to enjoy each other's company in an intimate setting while you savor delicious food and attentive service. It's a stress-free experience that satisfies your senses and allows you to bond with your date.
At Root 29 Craft Kitchen & Bar, we've created the ideal setting for romance, and we offer delicious meals to match. We are a brand new restaurant for those who want something unique, and we strive to create a memorable dining experience for every guest.
In our warm and inviting atmosphere, you can feel comfortable as you spend time with your date and enjoy carefully crafted dishes. We're inspired by Thomas Jefferson's passion for regional food with an inventive twist, and we're proud to share our culinary creations with our guests. At Root 29, you can treat your date to something upscale like Scallops and Mushroom Risotto, or if they prefer something more casual, we also offer mouthwatering burgers and sandwiches. To end the date on a sweet note, treat your other half to a decadent dessert like our house-made cheesecake.
If you're thirsty, we have regional wine, signature cocktails, craft beer and a vast selection of bourbon to complement the flavors of your meal. No matter what you choose from our menu, we'll make sure you and your date feel pampered as you enjoy your special time together. And, if you decide to spend the evening, we're conveniently located inside the newly renovated DoubleTree by Hilton Charlottesville.

2. Connect With Nature at Ivy Creek Natural Area
If you and your sweetheart both love nature, Ivy Creek Natural Area may be the perfect spot for holding hands and enjoying a romantic hike together. At Ivy Creek, you and your date can explore 219 acres of streams, woodlands and open fields. Here you can relax, share your dreams and celebrate your adoration while surrounded by natural beauty.

3. Explore Creativity Together at the Glass Palette
Taking an art class together is an interactive activity that can have huge benefits for your relationship. According to a study published in Journal of Marriage and Family, couples release oxytocin, the "cuddle hormone," during couples activities. Creating art together is a great way to incorporate playfulness into your relationship and create lasting memories that will bring you closer together –– all while making a fun souvenir you can take home.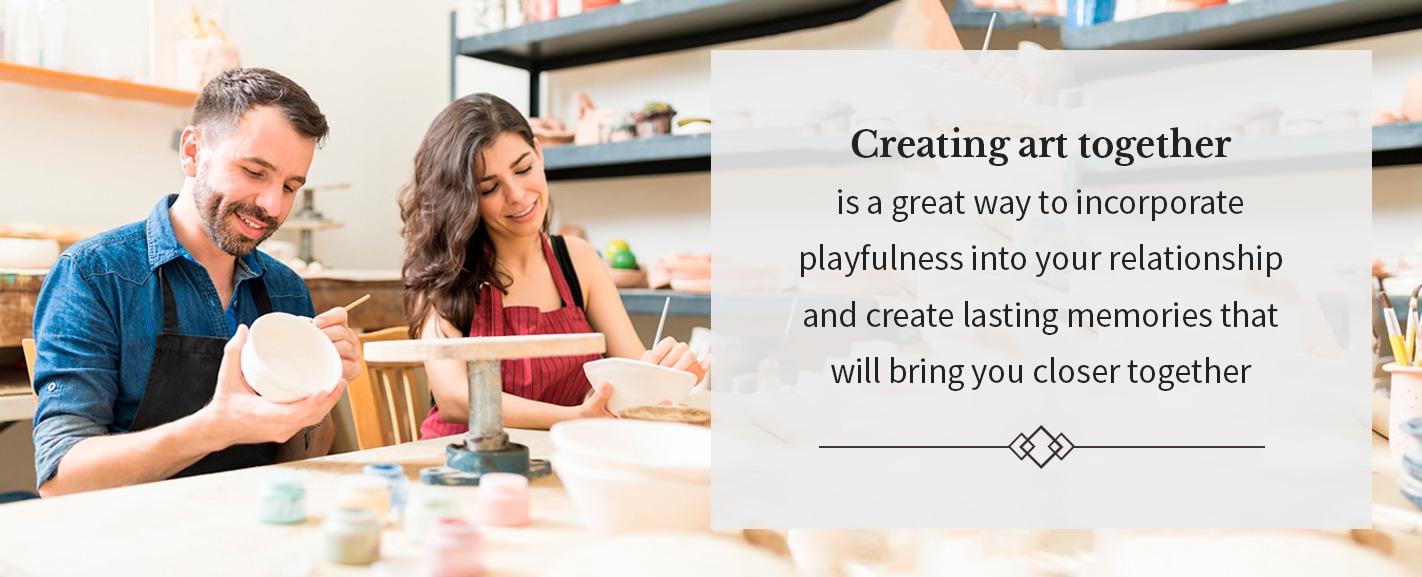 The Glass Palette Interactive Glass Art Studio is the place to go for a romantic couple's activity in Charlottesville. Here you can register for classes or workshops, or simply walk in to start creating glass objects together. You don't need any experience, and you pay for what you create with walk-in projects. You could also exchange your glass masterpieces at the end.

4. Pick Fruit at Carter Mountain Orchard
Imagine sharing breathtaking views with your loved one as you pick colorful ripe fruit together. It sounds like a fun and romantic way to spend a sunny afternoon, right? At Carter Mountain Orchard, you can pick your own fruit in a beautiful setting or head into the Country Store to buy freshly picked fruit and homemade goodies.
Just make sure to check their picking availability before you go, as this can change depending on the weather and other factors. If picking your own fruit is not an option, the Carter Mountain Orchard can still be a romantic trip for the views alone.

5. Take a Stroll at Knight's Gambit Vineyard
Charlottesville and Albemarle County is known for its wineries and vineyards, particularly wines from the Monticello American Viticultural Area (AVA). This is partially thanks to Thomas Jefferson, who is called the "first distinguished viticulturist" and who had two vineyards at Monticello.
Knight's Gambit Vineyard is located in the Monticello AVA and includes five acres of rolling hills facing the beautiful Blue Ridge Mountains. Take your date to Knight's Gambit to sip wine and enjoy the view on their deck, or join them on Sunset Saturdays to listen to live music as you watch the sun dip behind the mountains. Talk about romantic!

6. Tour Monticello
Are you and your date both history buffs? If so, you might consider Monticello the most romantic place in Charlottesville. Thomas Jefferson's Monticello is a must-see for anyone visiting Charlottesville, especially if you and your significant other love getting lost in history. You can tour Jefferson's magnificent mansion and grounds, learn his story and experience the only U.S. presidential home listed as a UNESCO World Heritage site. Make sure to stroll the gardens with your date and pause to take in the beauty.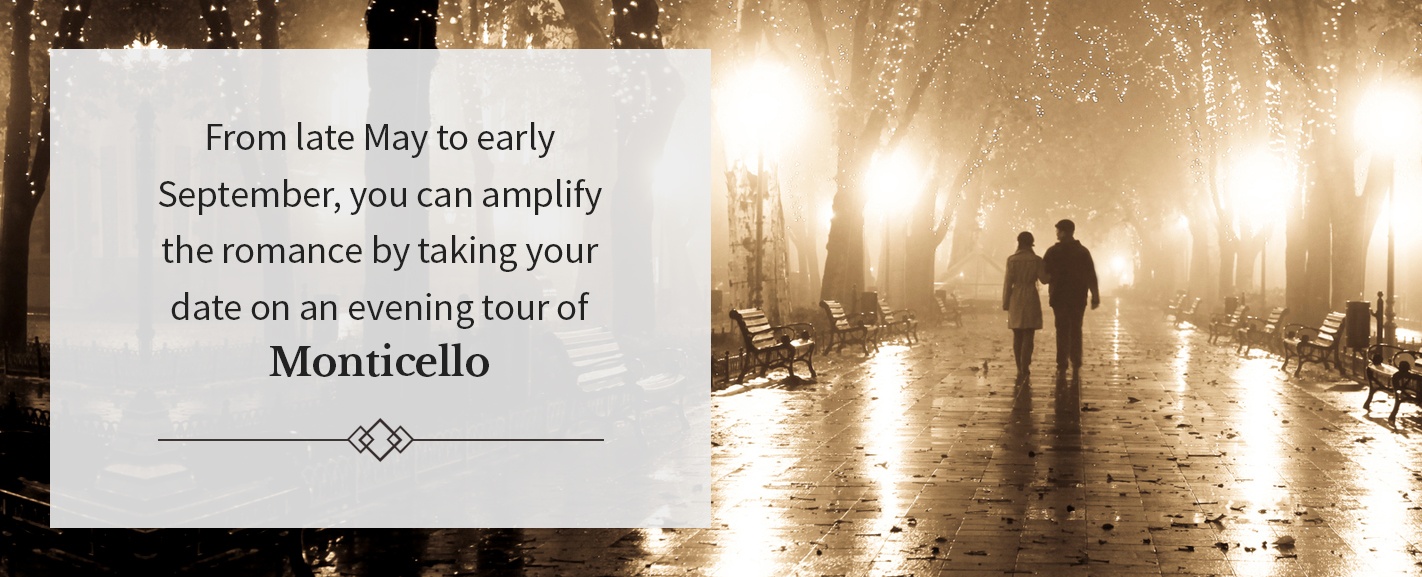 From late May to early September, you can amplify the romance by taking your date on an evening tour of Monticello. During the special Evening Behind-the-Scenes tour, you can experience the entire house and the unique serenity of this after-hours tour.

7. Go Salsa Dancing at lX Art Park
Are you and your other half looking to spice up the relationship with something new and thrilling? Why not try salsa dancing together? If you've always wanted to experience the passion of salsa dancing with your date, head to Sunday Salsa at the lX Art Park. During Sunday Salsa, you and your date will get a chance to learn and practice salsa together, and once you learn some moves, you can both dance the night away. With a $5 cover charge for ladies and $8 for gentlemen, this is an affordable and memorable way to spend date night.

8. Catch a Flick at Violet Crown
Cinephile lovebirds will want to consider checking out Violet Crown in Charlottesville. Violet Crown features a variety of films including art, independent, foreign, documentary and commercial hits. You will need to reserve your seats, which you can do at the theater or online. Those who buy tickets enjoy up to four hours of free parking in a nearby garage. For a romantic idea, head to Violet Crown with your date to share your passion for cinema, then stroll the Downtown Mall afterward to discuss the film and watch your love grow.

9. Share Laughs at the Paramount Theater
Laughter is good for you, and it's also good for your relationships. One study found evidence that shared laughter is a sign of relationship well-being. Whether you've been with your partner for years or are just starting out, you can benefit your relationship by heading to a comedy show and sharing a hefty dose of laughter.
You have several options for catching a comedy show in Charlottesville, but the Paramount Theater may be the most romantic. This magnificent theater, which opened in 1931, looks more like a palace inside than a comedy club, but you can still get your laughs here. They also host live music performances, films and other stage events, so make sure to check their events schedule to see who's coming to town.

10. Go on a Photo Walk
Taking photos together is a fun, inexpensive and unique way to spend time together, plus you'll have pictures you can later print and display for an instant happiness boost. Charlottesville is filled with photogenic spots. For example, you might walk around Downtown Mall with your date and capture shots of the colorful buildings and brick streets. You might also explore the Saunders-Monticello Trail together for numerous opportunities to capture Mother Nature's beauty.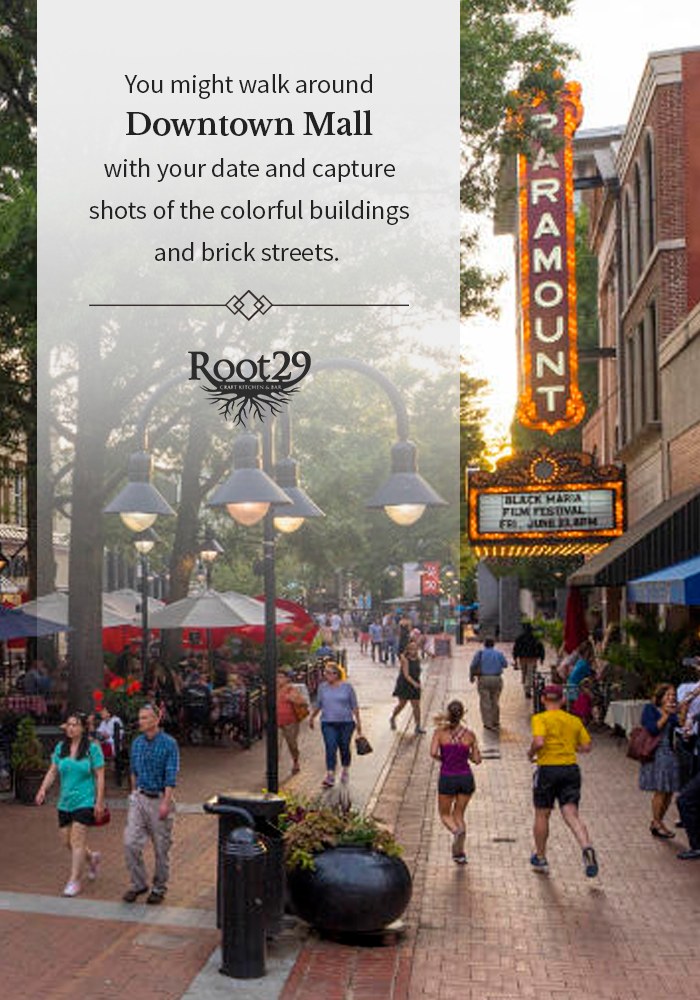 11. Listen to Live Irish Music at Tin Whistle
If you're looking for a new way to celebrate your love, consider heading to Tin Whistle Irish Pub on the Downtown Mall. You'll find traditional Irish music every Sunday, but they also hold events other nights of the week including a comedy night and a board game night. No matter what event you attend at Tin Whistle, you'll have a chance to share something special with that someone special.

12. Play Mini-Golf at Putt-Putt Fun Center
Did your first date take place on a miniature golf course, or do you and your date share fond childhood memories of playing mini-golf? In either case, mini-golf is fun, and it adds excitement and playfulness to date night. There are few mini-golf places to choose from in the Charlottesville area, including Putt-Putt Fun Center. Putt-Putt is open until 10 p.m. Sunday through Thursday, and 11 p.m. Friday and Saturday, so this can be an unforgettable way to end a romantic dinner.

13. Tour Vineyards by Horseback
Does exploring some of the gorgeous vineyards in the area by horseback spell romance to you? If so, check out Indian Summer Guide Service, which provides a unique and private horseback riding experience for riders of any skill level. With Indian Summer, you and your date can explore the beauty of the vineyards and orchards in the Charlottesville area, and then enjoy local wines or ciders in the tasting room after the ride. You get to choose the vineyard you want to ride through, or you can request a custom ride to craft your perfect romantic adventure.

14. Declare Your Love in the Air
Imagine soaring above the trees and mountains of Albemarle County as the sun sets and turns the sky a golden hue. While you're up above it all where it's quiet, peaceful and breathtaking, it will be hard not to feel the love and romance. Taking your date on a hot air balloon ride may be the most romantic thing you can do in Charlottesville.
There are few places in the area that offer hot air balloon rides, and one of the top-rated is Monticello Country Ballooning. With Monticello Country Ballooning, you can trust that an experienced team will get you and your date up in the air, and you can choose to fly at sunset or sunrise –– whichever part of the day is the most romantic for you. They also offer flights year-round to suit your fancy.

15. Go Bowling at AMF Kegler's Lanes
Did you just meet someone special you'd like to get to know better? To enjoy a low-pressure high-fun date, consider taking that special someone bowling. You can head to AMF Kegler's Lanes, have a few drinks and spend the evening bowling, playing arcade games, shooting pool and having a blast. Although AMF may not be the most intimate setting for a romantic date, it could be the perfect place to have a great time and nurture a blooming relationship.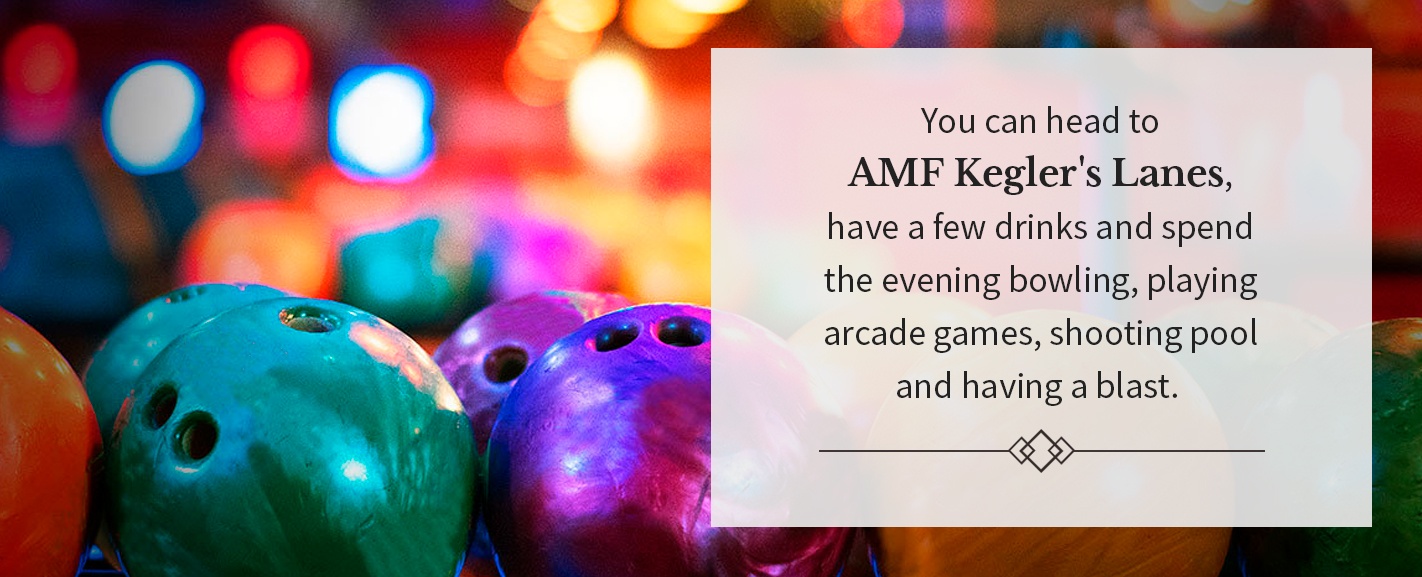 16. Bond at The Fralin Museum of Art
Touring an art gallery with your date can be ultra-romantic. Art galleries are usually quiet, intimate spaces that encourage reflection. Imagine viewing works of art with your date and appreciating the beauty together. You can discuss the art afterward over drinks or a meal for a complete romantic day.
Charlottesville has plenty of art spaces to explore. Consider The Fralin Museum of Art at the University of Virginia where you and your date can gaze at thousands of artworks spanning continents and centuries. You'll have plenty to talk about over dinner, and you can enjoy the shared appreciation you feel.

17. Relax in the Pavilion Gardens
There's something naturally romantic about gardens. Perhaps it's the intoxicating perfume of flowers, the lush greenery and the peacefulness. You can enjoy a quiet afternoon with your loved one at the University of Virginia's Pavilion Gardens. These gardens, designed by Thomas Jefferson, feature curving brick walls, shade trees, shrubs and a variety of plants that reflect those used by Jefferson. The Gardens are open to the public and make a lovely spot to relax with your other half.
Reserve Your Table at Root 29 Today
If you're searching for something romantic to do in Charlottesville, look no further than Root 29 Craft Kitchen & Bar. With a gorgeous and welcoming environment, exceptional service and soul-soothing dishes prepared by skilled chefs, you'll be sure to impress your date at Root 29. Reserve your table today and discover what makes our restaurant a unique and memorable dining experience.